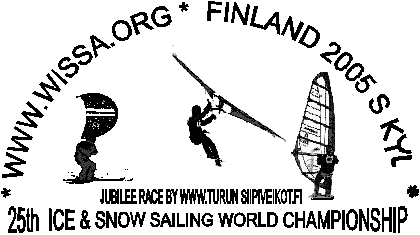 NOTICE OF RACE


25th Ice & Snow Sailing World Championship March 11-16, 2005
Finland Sakyla Loma-Sakyla
ORGANIZATION
World Ice & Snow Sailing Association (WISSA)
PURPOSE OF THE EVENT
The purpose of the World Ice and Snow Sailing Championships is to define the World Champion in each of the defined race classes, in each of the defined competitions. Serving the objective to promote the ice and snow sailing worldwide the best racer in each of the defined age divisions is recognized and honoured.
RACE CLASSES
Open Class Any sled using a windsurfing rig.
Freesail Wings, skate sails, Skimbats and similar.
Kites Overhead sails, parawings and similar.
DIVISIONS
Junior under 19 years on March 11,2005
General 20- 40 years on March 11,2005
Master 40- 50 years on March 11,2005
Grand Master 50- 60 years on March 11,2005
Great Grand Master 60 years + on March 11,2005
COMPETITIONS
Course Races Up to 10 races on a triangular course (same for all race classes). The course races competition can be concluded by the decision of the Race Master if a minimum of five (5) races are accomplished.
Speed Trials Up to 3 runs. Speed will be measured with a radar gun and/or a GPS unit. There will be no class segregation in the speed trials.
Long Distance Race Course and conditions to be determined at skippers meeting.
AWARDED
A Class will qualify for awards if there are at least five (5) competitors registered.
A Division will qualify for awards if there are at least five (5) competitors registered that meet
the age criteria. If a division does not qualify then each participant in this division will be assigned to the nearest group by the age or to the nearest group of the participant's choice.
The winner of each competition in every class is awarder with the title of the "World Champion in the competition of the class".
The female winner of each competition in every class is awarder with the title of the "World Champion in the competition of the class among women".
The winner of each competition in every class in every qualified division is awarder with the title of the "Champion of the Division in the competition of the class".
Every competitor is awarder with the "World Championship Participant" diploma.
PRIZES
Prizes will be awarded to the best three competitors in the course race in each class and division for men and women.
Prizes will be awarded to the best three competitors in the long distance race in each class and division for men and women.
Prizes will be awarded to the best three competitors in the speed trials in each division for men and women regardless of the race class.
ENTRY REQUIREMENTS
Competitors must be officially registered and must have a signed "release and hold harmless" certificate. Competitors must be willing to race at their own risk.
No organization or individual will be held responsible for any moral or material damage which may be sustained during travel to or arrival at the championship venue, during the stay, in the races, or while departing the venue.
It is the responsibility of each competitor to participate in the safest possible manner at all times. Helmets must be worn during competition and protective clothing is highly recommended. Life
and liability insurance coverage for the period of the event is also strongly advised.
RULES
The competition will be governed by the Racing Rules of the ISAF, suitable for ice and snow sailing, the WISSA Rules, the Notice of Race (except for alterations stated in the sailing instructions), and the Sailing Instructions.
WISSA Rules and Sailing Instructions will be available at the time of final registration and check-in.
The sailing instructions may be modified at skipper meetings.
In fairness to overseas travelers, the maximum sail size for the Open Class will be restricted to 7.5 square meters.
SCHEDULE OF EVENTS
Friday, March 11,2005 9:00 noon to 17:00 Registration 18:00 Dinner 19:30 Opening Ceremony
Saturday , March 12, 2005 Course Races
Sunday, March 13, 2005 Course Races
Monday, March 14,2005 Course Races
Tuesday, March 15,2005 Course Races and Speed Trials
Wednesday March 16.2005 Long Distance Race 13:00 Lunch 16:00 > about 17.00 Closing Ceremony
SITE INFORMATION
The races will be held at holiday village Loma-Sakyla in Sakyla on Lake Pyhajarvi, located about 230 km west of Helsinki and about 70 km north of Turku. Lake Pyhajarvi is about 30 km long and 14 km wide. It is known for good winds.
Surface conditions in March can vary from bare ice to snow.
Loma-Sakyla is a small but popular holiday center with comfortable cottages to be rented throughout the year. Competitors from all participating countries can sleep, eat , compete and socialize at the same location. The event organizers have negotiated special rate packages and strongly recommend to register as soon as possible. All prices quoted in this notice of race are in Euros.
REGISTRATION FOR ACCOMMODATION
Anyone needing accommodation should register with Mr Olli Kotilainen , e-mail: huolto@resta-sky.fi . A deposit is not required on booking. Shared accommodation is available in cottages for 2, 4, 6 or 8 persons. If you have requests regarding the persons wishing to share accommodation, please make a note about this on registration. The organizers reserve the right to make housing arrangements (male/female separately) for the shared accommodation in cabins unless full cabin reservations have been booked on registration by couples or groups. The earlier you make your registration the more choice you have for cabin size.
The rate of 60 Euros/ person includes:
-Accommodation for one night
-All meals: breakfast, lunch, supper and evening snack
-24 hours access to coffee, tea or juice
-All taxes and gratuities
-Meeting rooms for the event
-Waxing place
REGISTRATION FOR RACING
A pre-registration notice is attached to this race notice. Please fill it out and return it to the Event Coordinator once you have made up your mind to participate. Registration will take place from 12:00 to 17:00 on Friday, March 11, 2005 at Loma-Sakyla. The registration fee is 65 Euros which includes a 10 % donation to WISSA. The entry fee is to be paid in cash upon registration and will not be refunded. Also a 5 Euro cash deposit will be charged for the bibs. The 5 ? will be be given back to each competitor after the races in exchange for the bib.
TRANSPORTATION
Competitors flying into Helsinki-Vantaa or Turku Airport and in need of ground transportation to Loma-Sakyla should contact Olli Kotilainen, Event Coordinator or Virpi Tikanmaki, Assistant Coordinator for assistance in arranging the transfer.
Helsinki-Vantaa County Airport Services and Turku Airport Services have a direct route from the Airport to Loma-Sakyla, using 8-passenger vans. They accept ski bags and luggage typically used by kite sailors and will also accept windsurfing equippment not longer than 3 meters.
Reservations for ground transportation must be made on registration, also specifying which airport you will arrive at. The bus will pick up passengers at the airport terminal and take them to Loma-Sakyla. The trip takes about 2,5 hours from Helsinki and 1 hour from Turku.
Rates: Helsinki - Loma-Sakyla 25 Euros per person each way
Turku - Loma-Sakyla 12 Euros per person each way
(should the bus be full, the rate may be lower per person)
NOTE TO ALL COMPETITORS
It is not possible for the event organizers to reach every potential participant with this race notice. Please, make photo copies and distribute to other sailors in your area, and do your part in offering the opportunity to participate in a world championship.
Please, bring along a flag from your country. If you have tourist information of your area, ice and snow sailing video films or any other interesting information about your region, please bring it along. The evenings at Loma-Sakyla will provide good opportunities for sailors to learn about conditions in other parts of the world. The event also provides a chance to purchase equippment (skimbats).
CONTACTS
Olli Kotilainen, Event Coordinator, Kirsikkatie 23, 20720 Turku, Finland
Tel. +358-400-69 69 69
e-mail: huolto@resta-sky.fi
Virpi Tikanmaki, Assistant Coordinator, Tullikatu 15 B 5, 21100 Naantali, Finland
Tel. +358-400-555 222 Fax +358-2-4353 919
e-mail: virpi.tikanmaki@naantalinlaki.com